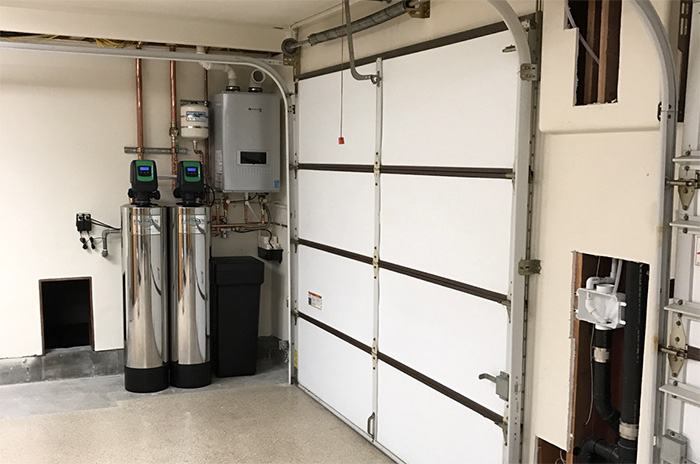 OC Royal Plumbing Specializes in Providing Purified Water for Your Home or Business
OC Royal Plumbing uses Falsken water filtration systems for all water filtration system needs. The reason we choose Falsken above all other brands is that Falsken does not take a one product system is better than another stance, and the same goes with OC Royal Plumbing. We are all different and our needs are also different. Therefore, we choose the best home water treatment solution that is the best solution for each customer's specific needs. OC Royal Plumbing technicians are experts on leading our customers to find the filtration system that will best fit their home and needs. Falsken is one of the few water treatment suppliers that offer both conventional Water Softeners and the "No salt No chemical" home conditioners, along with filtration systems and other alternative ways to treat your water. .
What Kind of Filter Do You Need?
There are many different types of filtration systems to choose from and we can help you through the process of choosing the right one for you.
Types of Water Filters
Water Softeners
A water softener is always the best solution for hard water issues around the house. As many know Southern California has very hard water. A water softener when sized correctly and maintained will remove the calcium and magnesium from the water. These 2 elements are what causes the hard water deposits, spotting, reduce the efficiency and life span of all water using appliances around the home. Simply put, if these elements are no longer in the water – hard water issues cannot occur.
You will never see anything other than a water softener in a restaurant, hotel or any other commercial business. They know the benefits of soft water...they also know no other water treatment process or device will give them soft water.
The advantages of the systems are:
Cleaner Softer Laundry, Skin and Hair
Spot Free Dishes, Silverware and Shower Doors
Eliminates Mineral Deposits on Faucets, Fixtures and Pipes
Cleaning made easier
Great for Children and Adults with Sensitive Skin
Save $$$on all Detergents, Soaps and Cleaning Supplies
Extends the Life of all Water using Appliances…Dishwasher, Washing Machine, Tank & Tankless Hot Water Heaters, Coffee Makers etc.
Water Conditioners
A conditioner shouldn't be purchased to solve hard water issues, but they can provide a very important role in home water treatment. They will reduce the chlorine/chloramine content in the water, it is well known that these elements in the water are not a good thing. If you are concerned about the effects chlorine & chloramines in your water, suffer from dry or other skin conditions and want to improve the taste and/or eliminate the odor from your water. A water conditioner is a good choice for you. Install a water conditioner along with a water softener and you now have not only provided protection and extended the life of all of your water using appliances, plumbing, fixtures and dishes, but also have provided aesthetically pleasing and better quality tasting water for your family.
The advantages of Water Conditioners:
Better Tasting Water Throughout the House
Reduces the Chlorine and Chloramine Content for Showering, Bathing and Cooking
Filters Out Dirt and Sediment Automatic Self Cleaning - No Filters to Replace
Great for Children and Adults with Sensitive Skin
Inhibits the Growth of Bacteria, Fungi, Algae and Mold
Reduces Some Heavy Metals Such as Lead, Copper, Iron, Nickel etc.
Whole House Treaters
The House Treater® is installed on the main water line to the house. This unit uses a proprietary carbon/fiber media blend that combines the benefits of both a sediment filter and a carbon block into a single cartridge. Scale prevention and plumbing protection is provided by the treatment media uniquely located within the cartridge. This media slowly dissolves into the water and lays down a microscopic barrier between the water and the plumbing to protect against hard water and corrosive elements that are potentially present in the water supply.
The advantages of Whole House Treaters:
Reduces chlorine for showering, bathing, and cooking
Protects your plumbing from corrosive elements, rust, corrosion and scale build up
High sediment holding capacity
Completely Eco Friendly
Does Not Lower the pH of the Water
Economical Alternative to Higher Cost Systems
Modified Carbon Block Provides High Flow Rates
Manufactured with FDA and/or NSF Compliant Materials
Made in the USA
Reverse Osmosis Systems
There are two options for an RO system. An RO system can be placed at designated areas and can provide top quality drinking water. There is also a Whole House System. A whole house RO System allows you to have filtered water at all sinks, showers, and appliances throughout the house. This system ties into the main water line coming into your home and is generally installed in the garage.
These units require less space than a conventional RO because of their sleek and slimline engineering.
Quality construction for years of dependable service.
Available in other configurations and daily production rate.
Quick connect fittings. • Long reach chrome faucet.
These professional series drinking water systems come complete with all installation components and instructions.
CA AB 1953 Compliant